LexcomSys™ GFM-3XXXUC Programmable Gas / Air Flow Meter and Flowswitch Controller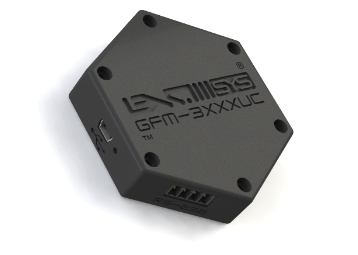 The LexcomSys™ GFM-3XXXUC is a versatile, highly configurable, high performance USB flow meter specifically designed to suit a wide range of applications in mind including testing, production, research, medical, and scientific. Its unparalleled performance, with a particular reference to very high sampling rates supported with excellent sensitivity, makes it an excellent choice for applications concerning reconstruction of high frequency flow change characteristics in gas propagation.
Examples include air pump / fan performance analysis, failure prediction, flow path optimisation, turbulence reduction, and other, more conventional flow measurement applications where high sampling rates can lead to a massive increase in effective accuracy of readings over a set period.
FEATURES
programmable airflow meter, switch, totaliser
self-calibrating: AIR / O2 / N2 / controlled mix
temperature-compensated readings
outstanding sensitivity & repeatability
accurate, high resolution measurements
very fast sampling response
high sampling rates up to 2kHz
detachable / replaceable sensor design
permanent, autoclavable & disposable sensors
small dead space (sensor choice): down to 1ml
1 device, 4 different sensors supported
directly human-readable ASCII data output
CONFIGURABILITY
multiple modes incl. for dosing & totaliser
highly configurable with extensive options
easy-to-use and flexible command structure
configurable, pre-programmable, and robust
retains & loads last saved config at bootup
full current config can be queried explicitly
readable, compliant, and consistent commands
INTEGRATION
autonomous operation capability
simultaneous electronic & digital interfaces
programmable flow switch
limit hysteresis setup in both flow directions
2 additional USB control solid state relays
separate, independent, standard RS-232 link
RS-232 fully functional in autonomous use
PERFORMANCE
sampling rates 5Hz to 2kHz
output rates from 1/day to 2kHz
high resolution 14 bit sampling
sensitivity to reliably detect a few ml/min
flow ranges up to +-250 slm (std l/m)
INTERFACES
standard USB 2.0 interface (data & power)
platform-native USB COM port implementation
Windows / MacOS / Linux: no 3rd party driver req'd *
* For legacy support, a simple low profile INF driver is also supplied, for Windows 7 only (other supported operating systems require no driver files at all).